Unicorn Cookbook Found at the British Library
A long-lost medieval cookbook, containing recipes for hedgehogs, blackbirds and even unicorns, has been discovered at the British Library. Professor Brian Trump of the British Medieval Cookbook Project described the find as near-miraculous. "We've been hunting for this book for years. The moment I first set my eyes on it was spine-tingling."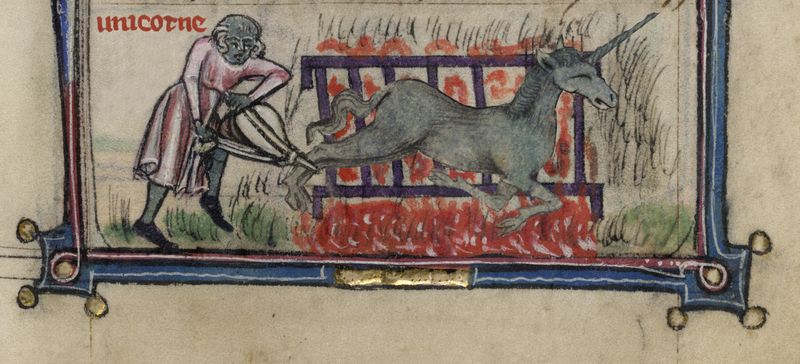 Detail of a unicorn on the grill in Geoffrey Fule's cookbook, England, mid-14th century (London, British Library, MS Additional 142012, f. 137r).
Experts believe that the cookbook was compiled by Geoffrey Fule, who worked in the kitchens of Philippa of Hainault, Queen of England (1328-1369). Geoffrey had a reputation for blending unusual flavours – one scholar has called him "the Heston Blumenthal of his day" – and everything points to his hand being behind the compilation.
After recipes for herring, tripe and codswallop (fish stew, a popular dish in the Middle Ages) comes that beginning "Taketh one unicorne". The recipe calls for the beast to be marinaded in cloves and garlic, and then roasted on a griddle. The cookbook's compiler, doubtless Geoffrey Fule himself, added pictures in its margins, depicting the unicorn being prepared and then served. Sarah J Biggs, a British Library expert on medieval decoration, commented that "the images are extraordinary, almost exactly as we'd expect them to be, if not better".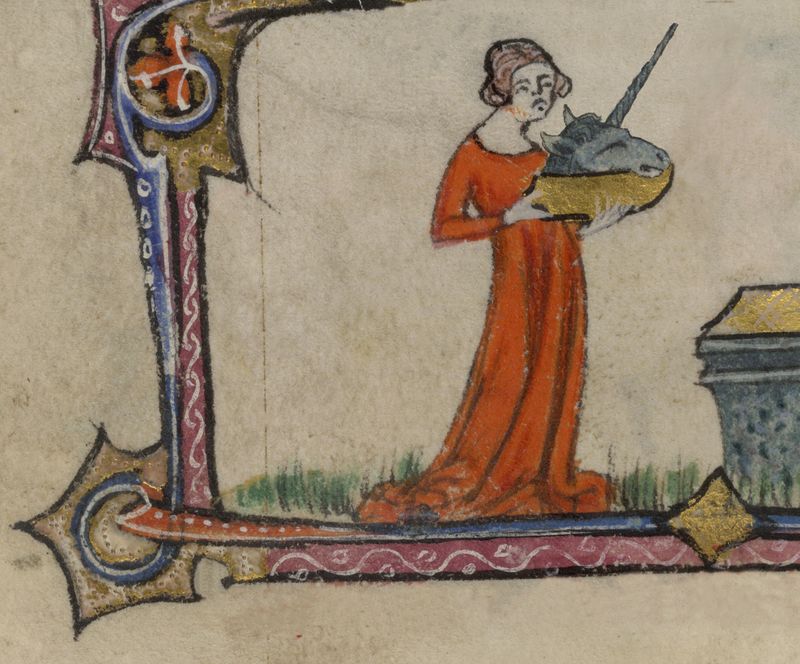 A lady bringing the unicorn's head to the table (London, British Library, MS Additional 142012, f. 137v).
The recipe for cooking blackbirds is believed to be the origin of the traditional English nursery rhyme "Sing a song of sixpence / A pocket full of rye / Four-and-twenty blackbirds / Baked in a pie." Professor Trump added that he was tempted to try some of the recipes, but suspected that sourcing ingredients would be challenging. "Unfortunately, they don't stock unicorn in my local branch of Tesco."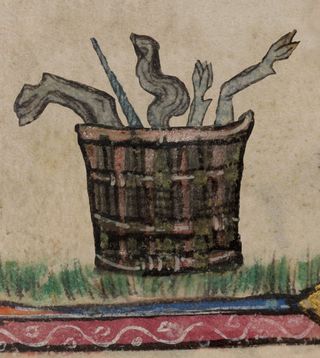 The remains of the unicorn (London, British Library, MS Additional 142012, f. 138r).